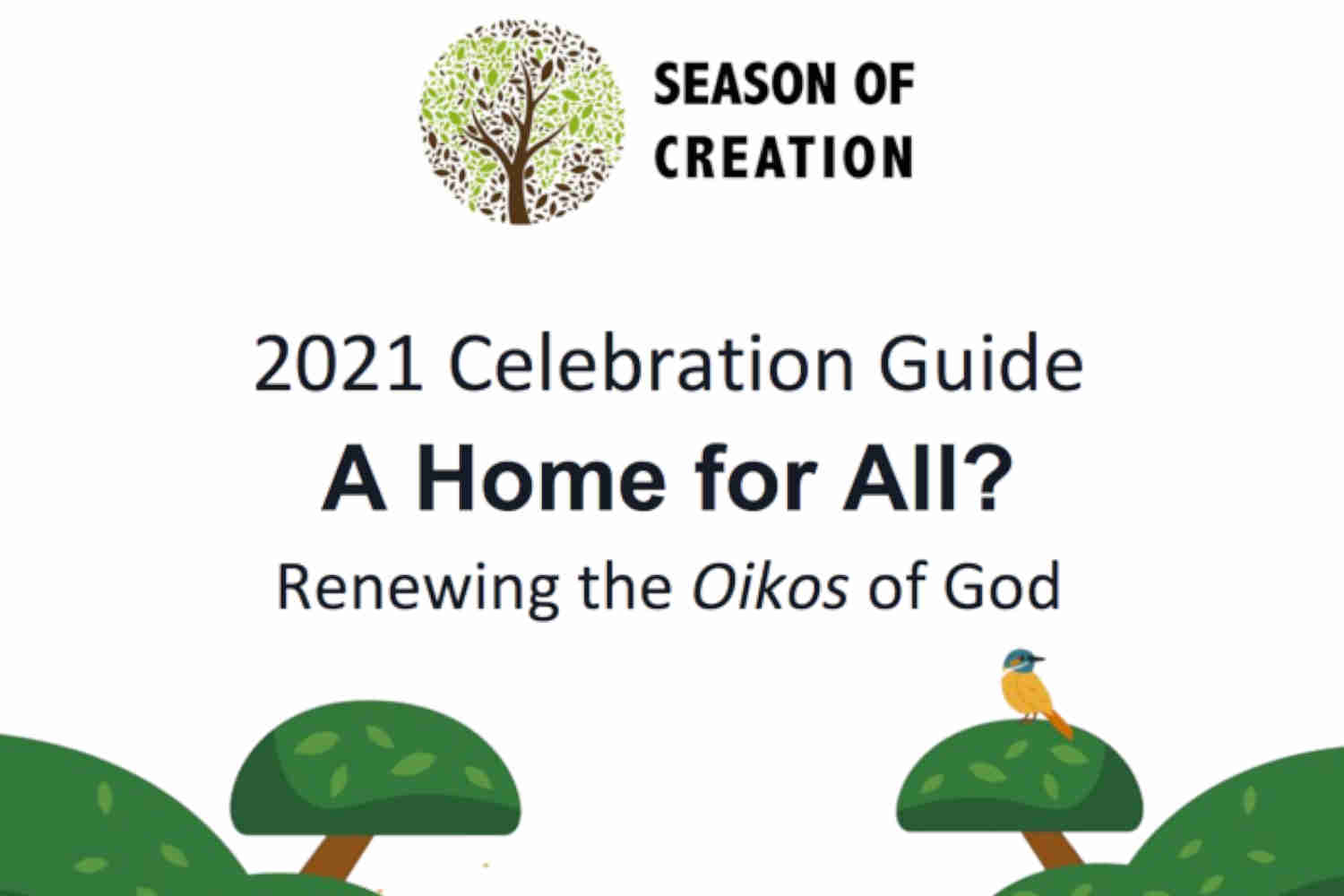 Christian communities around the world are invited to begin planning their Season of Creation celebrations with the new Season of Creation Celebration Guide, now available on the
season's website
.
Click here to download the new Season of Creation Celebration Guide
The 52-page guide is full of meaningful ways Christians and communities can participate in the annual celebration of prayer and action for our common home later this year.
Among the ideas listed in the free guide: Christians are invited to organize a creation walk or discover new ways to make their lives more sustainable, in line with creating a more resilient future for our common home.
Institutions are encouraged to prayerfully consider how they can help their communities best experience the season, such as by hosting sustainability events through the month or by implementing changes on a larger, institutional scale, such as by conducting and acting upon an energy audit.
Dozens of other ideas can be found in the new Season of Creation Celebration Guide. Download the guide.
The Season of Creation starts 1 September, the World Day of Prayer for the Care of Creation, and ends 4 October, the Feast of St. Francis, the patron saint of ecology beloved by many Christian denominations.
This year, the world's 2.3 billion Christians are uniting around the theme, "A home for all? Renewing the Oikos of God."
"The Season of Creation theme focuses on the fact that the Earth belongs to God, and each beloved creature belongs to this common home (cf. Psalm 24:1)," said Rev. Dr. Chad Rimmer, Chair of Ecumenical Season of Creation Steering Committee and Program Executive for Lutheran Theology and Practice for the Lutheran World Federation.
"The Greek word for "home" is oikos. By rooting our theme in the concept of home, we point to the integral web of relationships that sustain the well-being of the Earth."
Christian communities have been coming together since 2003 to pray, act, and advocate for our common home.
Now, however, as the climate emergency and ecological crisis persist at dangerous levels, it is clear more purposeful and unified prayers and actions are needed.
"Sadly, we know that we are destroying habitats and destabilizing ecosystems, which results in losing critical species at an alarming rate. Members of the human family are also forced to flee their homes due to climate induced insecurity and conflict," Rimmer said.
"We have to ensure a just home for all creatures for life on our planet to thrive, and that requires ecological, economic, and technological solutions that are rooted in a faithful vision of justice for the dignity of every creature.
"We hope that this Season of Creation strengthens the ecumenical unity to care for creation in a way that ensures all creatures have a home to flourish and participate in renewing the oikos of God."
Season of Creation Intergenerational Dialogue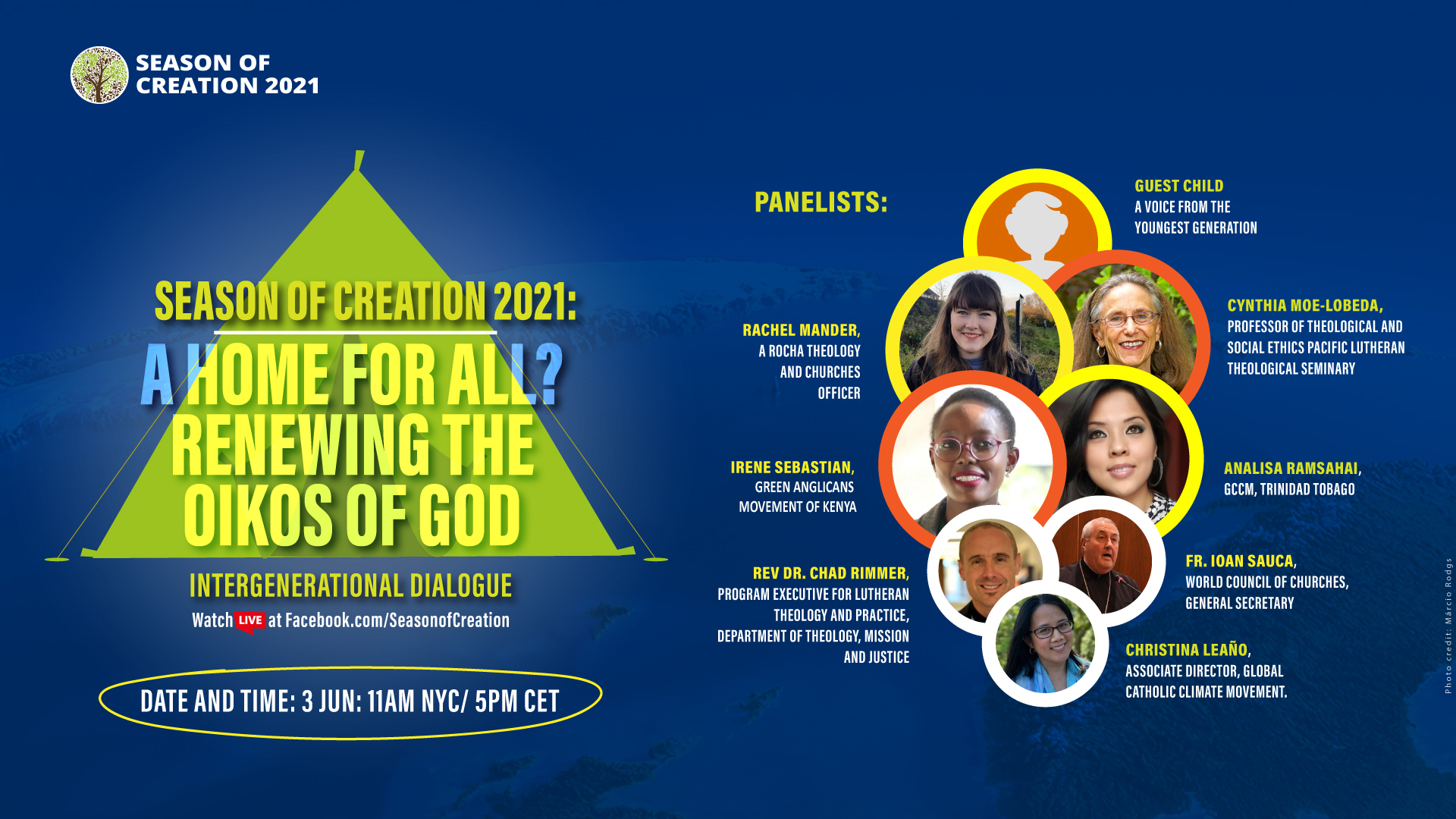 Learn more about how you can participate in the Season of Creation by attending the intergenerational dialogue on 3 June about the 2021 theme. The dialogue will be broadcasted on the Season of Creation Facebook Page.
"We all have our own experiences of home, and reflecting on what 'home' means reminds us of personal memories and specific places," said Rachel Mander, Theology and Churches Officer at A Rocha, a Christian conservation organization.
"As we look ahead to Season of Creation and the opportunity to explore our shared and common home of the Earth, we will first hear three women of different generations discuss together how they understand home, and the way this is changed by different contexts and times. It will be a wonderful way to launch this year's theme."
More from the Season of Creation: