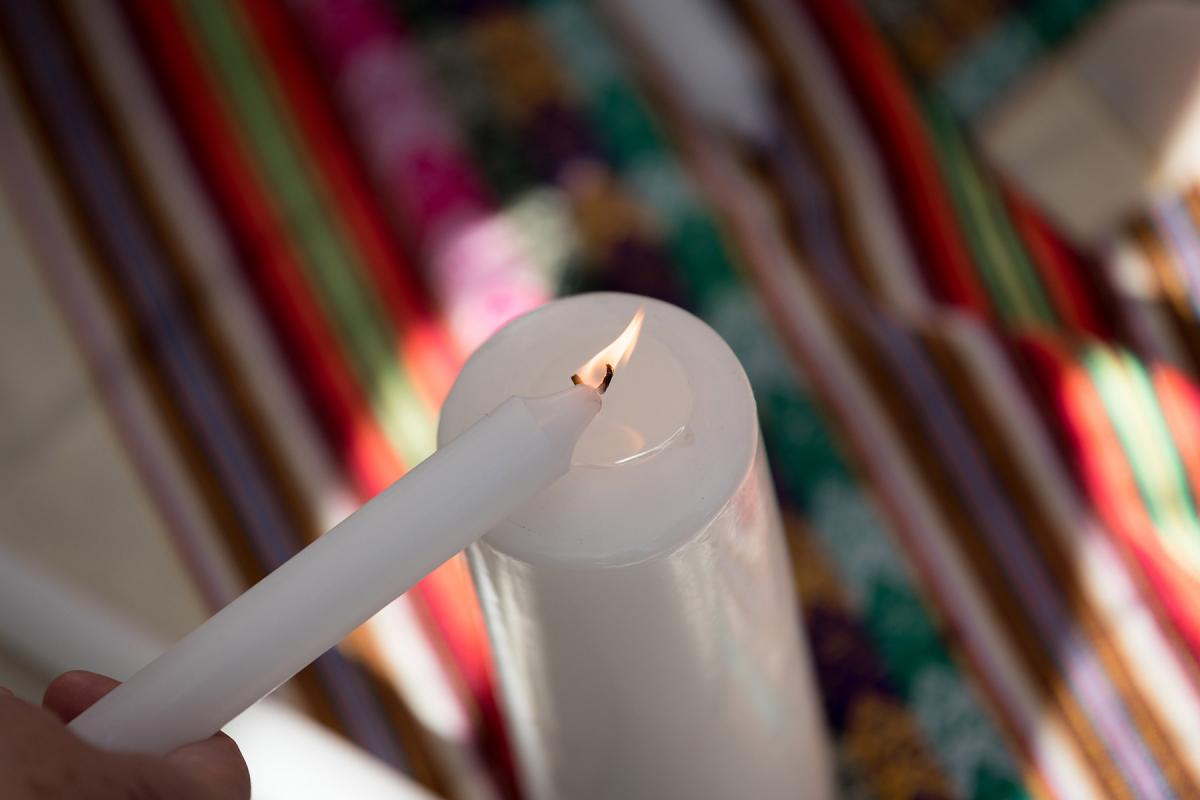 Lighting a candle during a "Prayer for the Rainforest" as part of the Cumbre Social por el Clima, during COP25 that took place in Madrid, Spain, in 2019. Photo: LWF/Albin Hillert
LWF General Secretary will join church leaders and representatives for opening prayer 
(LWI) – The Lutheran World Federation (LWF), together with ecumenical partners worldwide, opens the Season of Creation with an online global prayer on Wednesday, 1 September. LWF General Secretary Rev. Dr. Martin Junge will join leaders and representatives from the global ecumenical family in the service. This year's Season of Creation theme is "A Home for All? Renewing the Oikos of God". The prayer includes the voices of Native American and Maori Christians.  
The Season of Creation lasts from 1 September which is the Day of Prayer for the Care of Creation until 4 October, the Feast day of St. Francis. It is an invitation to engage in prayer, symbolic acts, and campaigns to give thanks for creation and renew our human vocation to care for it. 
"Oikos is a Greek word for the Earth community," explains Rev. Dr. Chad Rimmer. He is the Chair of the Ecumenical Season of Creation Steering Committee and LWF Program Executive for Lutheran Theology and Practice. "It is an invitation to be united in the human vocation to reshape just and sustainable political, social and economic systems that respect the life-giving ecological limits of the Earth." 
Christian communities have been coming together since 2003 to pray, act, and advocate for their common home, he added. However, as the climate emergency and ecological crisis persist at dangerous levels, more purposeful and unified prayers and actions are needed. 
"Sadly, we know that we are destroying habitats and destabilizing ecosystems, which results in losing critical species at an alarming rate. In addition, members of the human family must flee their homes due to climate-induced insecurity and conflict," Rimmer says. 
"We have to ensure a just home for all creatures for life on our planet to thrive. That requires ecological, economic, and technological solutions that are rooted in a faithful vision of justice for the dignity of every creature," Rimmer says. "We hope that this Season of Creation strengthens the ecumenical unity to care for creation in a way that ensures all creatures have a home to flourish and participate in renewing the Oikos of God." 
Many churches in the ecumenical family observe the "Season of Creation" (also known as Creation Time) between 1 September and 4 October, the Feast of St Francis of Assisi, as observed by some Western traditions. For the Lutheran communion, this liturgical season of prayer and action is an opportunity to affirm LWF's commitment to addressing a major crisis of our time – climate change. "A home for all? Renewing the Oikos of God" is the 2021 theme for the "Season of Creation".