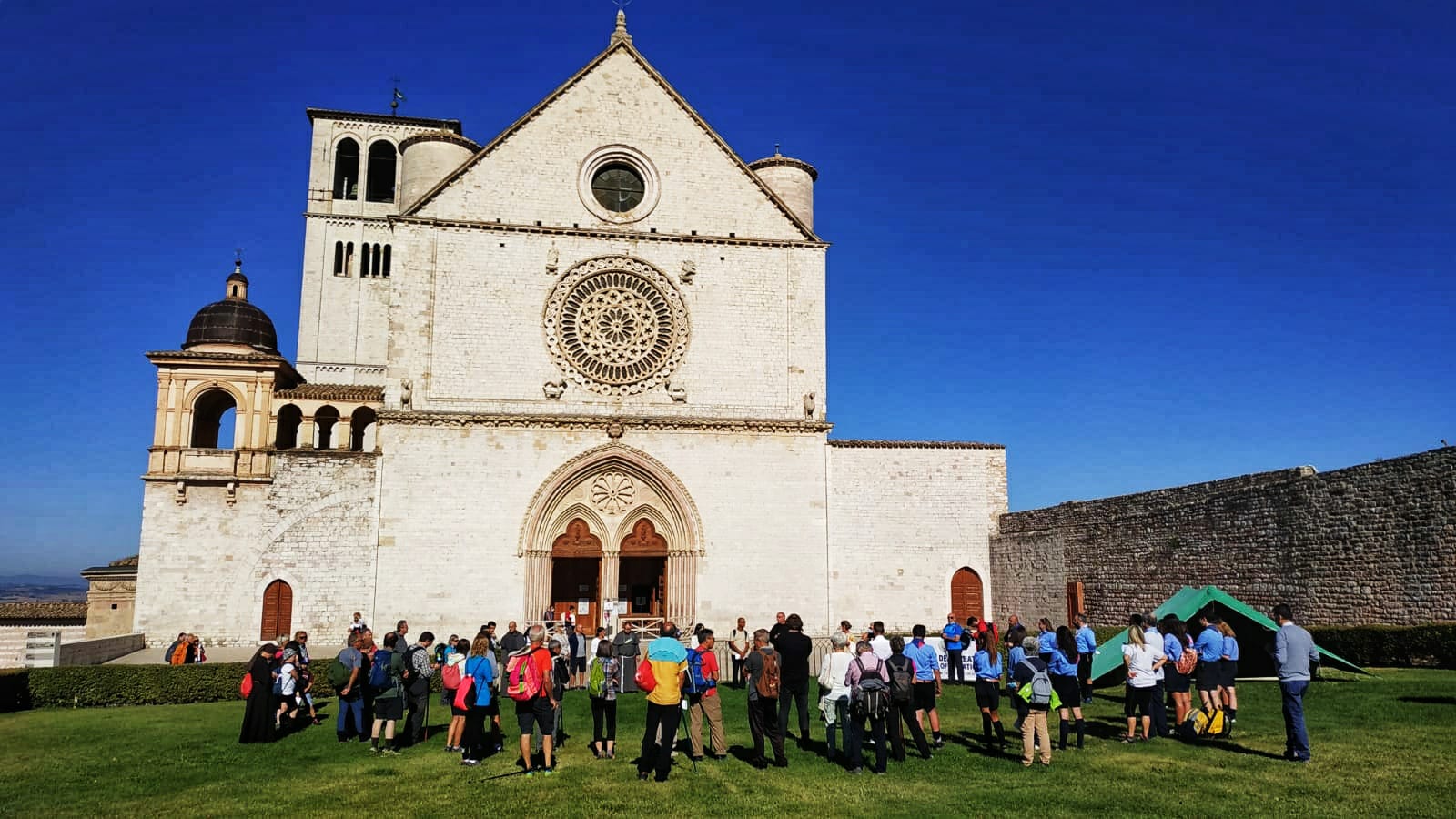 By Antonio Caschetto
Laudato Si' Movement
On 1 September, within the traditional "Path of Francis," the pilgrimage on foot between Assisi, Valfabbrica and Gubbio, on the steps of the Patron Saint of Italy, a moment was lived around the "Tent of Creation."
Despite the difficulties related to the ongoing COVID-19 pandemic, we forged ahead with the message of reconciliation and hope that have always animated the event of the walk and the ecumenical Season of Creation.
The pilgrimage took place on the basis of the scheme proposed last year. It was a spontaneous and free walk and welcomed pilgrims and all those who could organize the three-day journey independently.
The participants, guided by the Bishop of Gubbio Luciano Paolucci Bedini, met in Piazza del Vescovado, and were welcomed in the Shrine of Renunciation by Mons. Domenico Sorrentino, Bishop of Assisi – Nocera Umbra – Gualdo Tadino and Foligno and by the Mayor of Assisi Stefania Proietti.
The first stop of the pilgrimage was at the Meadow of St. Francis, at the tent set up for the Season of Creation. The tent of Abraham, a sign of welcome, helped pilgrims reflect and pray together on the theme "A home for all. Renewing the Oikos of God."
The pilgrims were welcomed by the new custodian of the Sacro Convento of Assisi, Father Marco Moroni, and by the AGESCI groups of the Diocese of Assisi. The reflection was led by Antonio Caschetto, coordinator of the Italian programs of the Laudato Si' Movement.
The brief moment of prayer and reflection on the theme of welcoming closed with the sign of the Amen. "Amen" which comes from Aramaic and indicated the picket of the tents of the desert nomads, in the tent indicated our conscious choice, our "here I am" to the call to take care of our common home. During the event, the signatures of the petition, "Healthy Planet, Healthy People" petition were collected as well.
The pilgrimage continued to Valfabbrica and Gubbio, as every year. The tent, on the other hand, will be set up in the meadow of St. Francis, from 17-25 September, accompanying the "Courtyard of Francis" and will be animated by the various groups of the Diocese of Assisi, by Franciscan families, by the Laudato Si' Circle of Assisi and by all those who, with their own talents, will want to make themselves available to educate and reflect on the theme of our common home. 
Finally, on 25 September, it will be disassembled and carried on foot to the wonderful natural setting of the Sanctuary of the Madonna dei Tre Fossi, where in the evening there will be a vigil under the stars with the AGESCI groups, on the eve of the diocesan ecumenical prayer, also scheduled at the Madonna dei Tre Fossi on Sunday, 26 September, the World Day of Migrants and Refugees.
This prayer will see the direct involvement in the prayer of the ecumenical realities of the diocese (Anglicans, Copts, Orthodox), as well as the participation of the refugees welcomed by the humanitarian corridors in the diocesan territory.