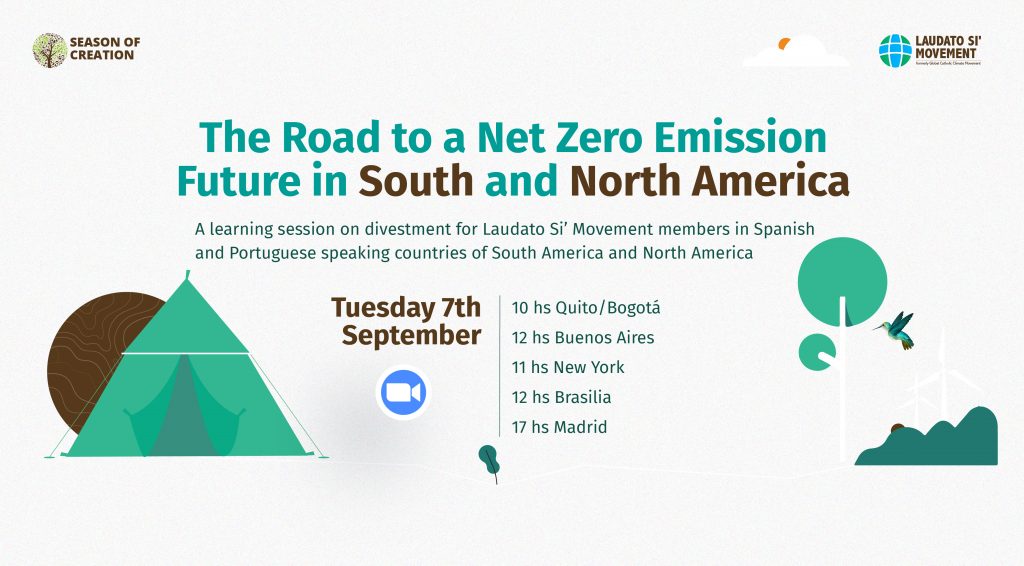 In the Season of Creation framework, the Laudato Si' Movement organized the event "The Road to a Net Zero Emissions Future in South and North America", a session attended by around 60 people to learn about divestment and the importance of changing our habits to contribute to the journey towards 2050.
The objective of the meeting was to teach individuals and institutions to know what actions to take when it comes to divestment and why this is important; what individual and collective changes we must make to end climate injustice; and how Christians can collaborate with an economy that contributes to divestment.
Fabián Campos, head of Hispanic America programs for LSM, led a presentation in which he explained why we must divest, provided resources for divestment, and spoke about the work that the Laudato Si' Movement is doing in this regard.
"We encourage Catholic institutions to invest only in responsible entities and to announce it publicly," Fabian said. This last step is fundamental because it deprives the fossil fuel industry of legitimacy, and Fabián advised doing it jointly among different institutions to have a greater media, social and financial sector impact.
Fossil fuels are the cause of the climate crisis and directly affect local communities. The Dicastery for the Promotion of Integral Human Development is already engaged in this, led by Father Joshtrom Kureethadam, working together with MLS. 
Globally, there are 1327 institutions that have already divested, of which 254 are Catholic. A new divestment announcement will be made on October 25 and Catholic institutions are invited to join in this call. LSM is providing a step-by-step guide and a helpful toolkit.
Svitlana Romanko, director of the Zero Fossil Fuels Campaign, presented in her turn on how to personally contribute to divestment with our consumption. "Biodiversity and local communities are suffering," she said, and encouraged investment in clean energy and environmentally friendly projects.
It happens that many times we are not well informed about the organizations and companies whose resources damage the environment. That is why the first step is to get informed, and then "moderate our consumption methods, and stop contributing to industries that invest in fossil fuels".
Then, an example of a divestment case was given by Sulman del Pilar Hincapie, who told the story of a local institution. In addition, Leslie Samuelrich, president of Green Century Capital Management, who was among the participants, shared her perspective and experience on how organizations should divest.
Participants had the opportunity to discuss in working groups by language how to apply these concepts in their communities and what arguments they would use to convince people to make the decision to divest.
Erin Lothes, director of the LSM Laudato Si' Animators Program, was the moderator in charge. Mercy Iküri, LSM Fossil Fuel Divestment Intern gave the closing remarks, making the audience aware of what will happen if we do not take concrete action in the short term.