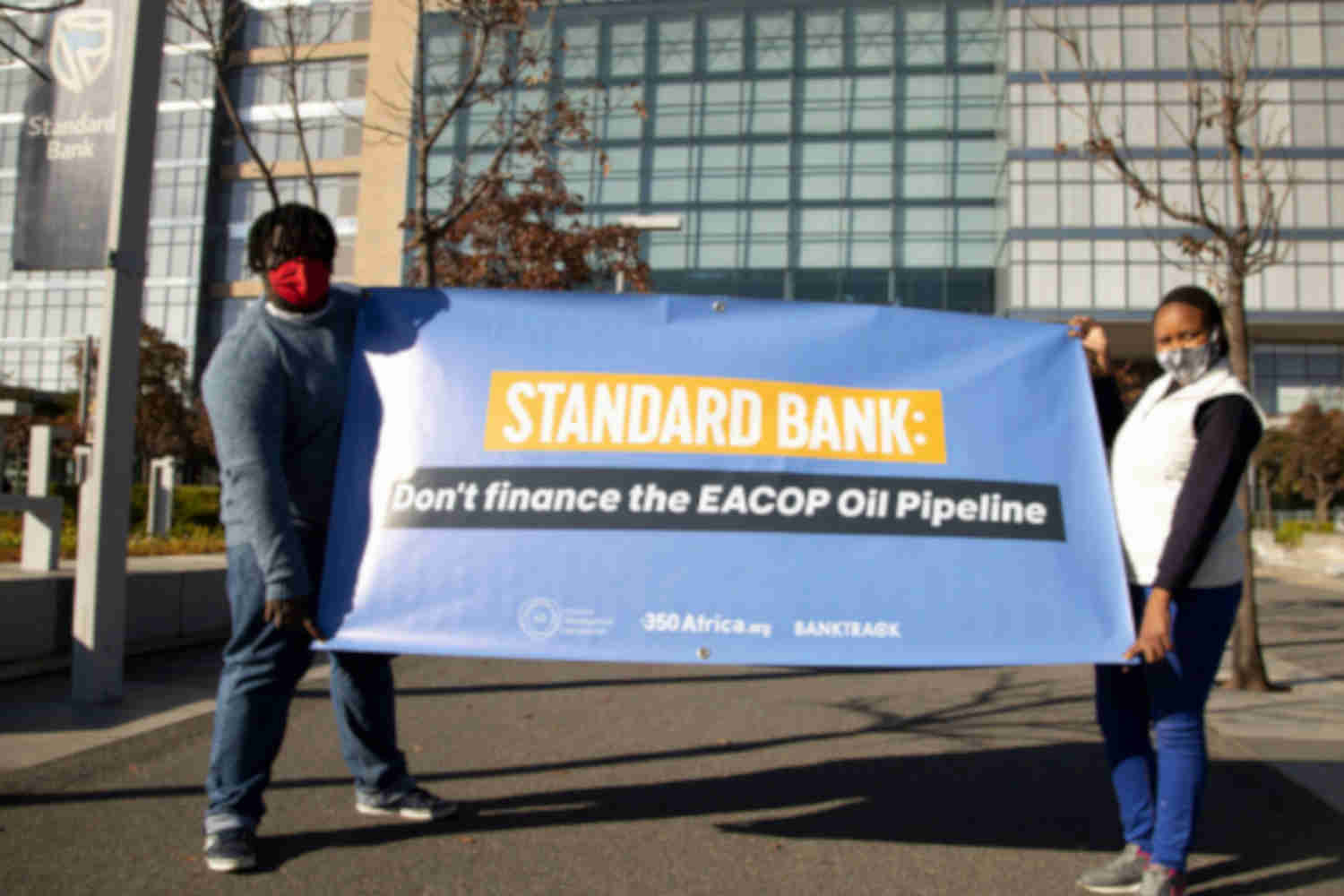 Delivering signatures to Standard Bank and telling them not to finance the EACOP.
By Prince Papa
Coordinator for Global Catholic Climate Movement Africa
"On matters EACOP, you do not have any rights!"
These were the words of an Inspector General of Police in Uganda as he curtailed the freedom of Ugandans and locked up nine activists and journalists for planning a peaceful demonstration in Hoima.
Less than a week after signing the Host Government Agreement (HGA) with the French oil company Total, and only five days following the signing of the pact agreement with Tanzania, Uganda President Yoweri Kaguta Museveni came out strong against civil society organizations (CSOs) in Uganda that campaigned against the proposed East Africa Crude Oil Pipeline (EACOP).
At around 20:00 on 15 September, armed government police arrested two activists who were part of a group that had gathered in Hoima to talk about the fate of the Bugoma Forest amidst Uganda's National Environmental Management Authority's (NEMA) alleged misconduct in the irregular licensing of EACOP and sugar farming in the forest.
An additional five activists and two journalists were arrested the following day as they sought the release of the others.
These actions are the government's growing high-handedness against any form of opposition to EACOP. Recently, there have been various forms of recorded witness intimidation in the case against Total in the Netherlands. That lawsuit is being led by Friends of the Earth.
But while speaking on NTV, a privately-owned regional television station in east Africa, activist Mike Businge affirmed, "We are not going to be intimidated by anyone! We shall go ahead with our peaceful plans to see to it that Bugoma Forest remains intact!"
His sentiments were echoed by fellow activist Sandra Atusinguze, "Whatever illegal activities permitted by NEMA in the forest must stop, now!"
The right to a peaceful demonstration is a right in the Ugandan constitution, and these arrests are illegal and unconstitutional and a violation of the activists' and Ugandans' rights.
In a human rights impact assessment titled, "Empty Promises Down The Line?" Oxfam highlighted various forms of human rights violations related to EACOP and included recommendations for Total and the governments of Uganda and Tanzania.
As at the time of publishing this, the detained CSO members had been released on police bond, against their wish to be taken to courts immediately and have their charges read.
The arrested:
Sandra Atusinguza – Africa Institute for Energy Governance 

Venex Watebawa- WEMNET/Journalist 

Joshua Mutale- Freelance journalist

Sam Kayiwa- Human Rights for Journalists Uganda

Vincent Sekitto – Save Bugoma Campaign

Ismail Kashokwa – Save Bugoma Campaign

Joseph Mujuni – Oil Refinery Residents Association

Moses Mukiibi – Oil Refinery Residents Association

John Kibego- Save Bugoma Forest Campaign